Alternative Streaming Software to OBS
Reading Time:
7
minutes
OBS is a free and open-source streaming and recording program available on both PC and Mac. It's used by a huge amount of Twitch streamers and YouTube creators, but is it the best game streaming software?
What are the alternatives in 2020?
Streamlabs
Beginning initially as a tool for alerts and chat. Streamlabs has built up it's own version of OBS with a streaming tool that brings all their features into a simple and easy-to-use place. It's the perfect tool for streamers who don't want to have all the possibilities and in-depth options of OBS.
It can save CPU and reduced the amount of screen-space you need having it all in one place. Streamlabs OBS has a huge amount of free themes and templates that give new streamers the quickest way to start streaming.
It's free, quick, reliable and trusted by huge streamers such as Pokimane, Ninja, Summit1G, Lirik and Imaqtpie.
Streamlabs now comes with an amazing remote control app for both iOS and Android phones.
Most of the features come with the paid Prime service, for example: Streamlabs Prime provides useful tools like multi-stream options, high-quality overlays, and possible sponsorships to help you and your channel grow.
Yes, there are other tools that are fantastic, and sometimes Streamlabs OBS has some bugs, but I can't truly fault Streamlabs for new and existing creators.
Streamlabs Review: 5/5
⭐⭐⭐⭐⭐
Lightstream
It's not often that you get a cloud-based streaming platform, but that's exactly what Lightstream is..and yes. It works extremely well!
Back in August 2020, Lightstream Studio launched a new partnership with Twitch to help streamers on both Xbox and Playstation.
It enables console streamers to add all of the customizations that PC gamers enjoy like overlays, alerts, video, and other media when streaming directly from their console.
It's honestly one of the best ways console gamers can start streaming on to Twitch without needed a huge investment in equipment or a gaming PC. It costs $8 per month for the console game stream features.
So, Lightstream looks like a great starter option for any gamer or broadcaster. And while it costs between $25 – $50 a month for the advanced functionality. The starter features are more than enough if you are just trying it out.
It also allows podcasters to throw in a webcam-friendly video very easily.
One of the more difficult sides of streaming is multi-person or multi-camera streaming. Lightstream has realised this and developed it's cloud-based software to allow multiple people to broadcast to the same stream.
Lightstream doesn't come with all the crazy features and functionality of other streaming software such as Streamlabs and OBS, but what it does provide is a brilliant way for streamers to instantly set up and easily start streaming. I especially recommend it for console streamers.
You can learn about Lightstream here: www.golightstream.com
Lightstream Review: 4/5
⭐⭐⭐⭐
Xsplit Broadcaster and Gamecaster
Xsplit has two different pieces of software, Broadcaster is similar to OBS in that it allows you to customise the entire screen with overlays and input any audio and video sources (including capture cards).
Xsplit Gamecaster allows you to stream to Twitch in a simple user-interface that works directly inside your favourite game using capture cards only. If you are streaming directly from a PS4 or XBOX using a capture card, this is the perfect software for you.
Xsplit's products are free but limited unless you pay a monthly subscription cost. Some things that are missing include:
Scenes are limited to 4 (for a beginner streamer this is totally fine…)
No simultaneous broadcasting to multiple streaming platforms
Transitions and an express video editing tool
There is also an additional watermark on any streams that go beyond 720p in quality and/or use a higher framerate than 30FPS. For beginner streamers again this is totally fine, but as partners can stream to 1080 on Twitch… this may be an issue in the long term.
I know many streamers who say Xsplit works better than OBS and uses significantly less CPU. But this seems to depend on the PC you use.
This, alongside the simplicity of the free tools and the millions of people using it every day providing support and answers to all your questions, continues to attract new users.
You can learn more about Xsplit here: www.xsplit.com
Xsplit Review: 4/5
⭐⭐⭐⭐
OBS.Live
StreamElements have created an add-on to OBS itself, and while this may be a guide suggesting alternatives to Open Broadcaster Software, the extra features and functionality that OBS.Live gives streamers may keep you sticking around the original streaming tool.
Imagine all the extra things you have on full-functionality tools such as Streamlabs, but within your OBS software itself.
OBS Live comes with the features:
Chat and activity feed in your OBS console
Ability to control your alerts directly from OBS (replay, skip and mute)
Ability to give your bot a custom name that suits your Stream
Fully integrated with StreamElements overlays
Fully integrated with Elgato's StreamDeck.
You can learn more here: streamelements.com/obslive
StreamElements OBS Live Review: 4/5
⭐⭐⭐⭐
Nvidia Shadowplay
Limited to Nvidia graphics-card owners only, Shadowplay is an interesting alternative to OBS. It records directly from the graphics card giving you options that you would not normally have in other streaming software and reducing the amount of CPU being needed to record.
For example you can use a DVR-style Instant Replay mode, just in case you missed an amazing kill or gaming moment.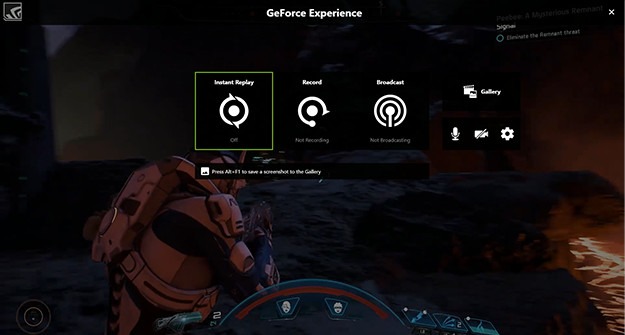 I honestly have not used NVIDIA Shadowplay so it's hard to rate it!
NVIDIA Shadowplay Review: ?/5
⭐⭐⭐
Player.me
Attempting to bring together the best of OBS, Xplit, Streamlabs, Discord and Twitch itself, Player.me is positioning itself as the all-in-one tool for gamers to create content and share it online.
It's good, but not great and honestly, I recommend the full-featured Xsplit Broadcaster and Gamecaster streaming software over this.
Player.me Review: 3/5
⭐⭐⭐
Others:
There have been many other tools that have been and gone or switch to more business-users. However, I'm leaving them in here for curiosity and plan B's if any of the above software does not work for you.
Bebo
In October 2018, BEBO announced they were discontinuing support for general streamers, and moving their tool into one for tournament players and organisers.
Could it have been an OBS killer? Potentially. A Streamlabs killer? Potentially. Bebo createdan all-in-one tool with super low CPU and built-in everything you could ever want in a streaming tool.
Bebo pivoted to esports before being acquired by Twitch itself!
Bebo Review: 3/5
⭐⭐⭐⭐
Gameshow
I was a huge fan of Gameshow, but as of 2019, it was closed by the Wirecast team. Disappointing help from them led me to look into all the alternatives such as OBS, Bebo and Lightstream.
Review: 1/5
⭐
Wirecast
Powerful software at a high cost.
Wirecast is known more for it's business targeted tools and highly technical options. For example it can pull in Facebook comments live, stream to Vimeo, add in MIDI controllers, image editing and multiple transitions. However, if you can afford the $695 it costs, it may be what you are looking for.
You can learn more about Wirecast here: telestream.net/wirecast/overview
Review: 1/5
⭐
FFsplit
A free, opened source alternative to OBS. It's quite out-of-date now but if you have run out of all options then give it a try.
You can learn more about FFsplit here: www.ffsplit.com
Review: 1/5
⭐
Bonus round:
If software doesn't work for you, or you are recording gameplay for YouTube instead. then Elgato Hardware may be perfect for you.
It gives unlimited video recording at 1080p quality and 60 frames per second, many streamers use Elgato's products to broadcast the footage on a second PC and stream it through software.
YouTubers also use this to capture the game footage and edit later on.
There are alternatives to Elgato such as AVerMedia, Razer and Hauppauge.
Who are we?
The Emergence is a streaming education, guides & tutorial website. We are dedicated to teaching content creators everything they need to know to help them start or grow their streaming journey.
🙂 ❤