Appear & Emerge - Email Newsletter
Are you looking for a continuously updated guide for choosing the best games to stream on Twitch? Our monthly newsletter is perfect for you.
Appear & Emerge is a ongoing newsletter that will show you the best content opportunities on Twitch every month, be it game or category.
Sign up for free today to unlock everything you need to know.
PS this is currently on hiatus due to work on our ultimate guides.
Why is it called Appear & Emerge?
Sometimes things zoom past us quickly without us even noticing, or maybe they sneak up on us. This email newsletter gives you a chance to keep an eye on what is happening.
I've been looking for a way to create ongoing content that dives deeper into topics for content creators for a long time. I noticed that Twitch creators are constantly discussing the type of content they produce and the games & categories they play… wondering whether what they are doing is the right thing or right way to do things.
I'm also personally always spotting categories that seem remarkably quiet considering the potential audience size or type of content that could be made by people with passions in those areas.
Maybe you don't even stream but want to see what games are trending right now among content creators.
I think Appear & Emerge is the best way for me to do this right now. So let's test it and see!
Yes! As with our guides, all content is free and accessible.
However, there will be a paid version of the email newsletter where you get to read my personal thoughts on streaming, the wider gaming industry and even more opportunities I spot within the gaming content creator community.
I am also looking to roll this out into an audio format to subscribers only for those who would prefer to listen rather than read.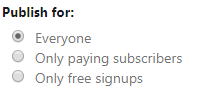 How often will these emails be?
I'll be realistic and say I am sending one out every month.
Firstly, I don't want to spam you with a load of emails that you'll get bored, hate them and throw them in the spam pile.
And secondly, The Emergence is a side-project from the actual full-time job I have, it's unlikely I'll be able to keep running the website, writing the guides, chatting on Twitter, Discord and posting content on Instagram while also writing a weekly email newsletter… EEK!
Do you ever wonder what game would be best to grow your channel?

This monthly email supplies you with the best games & categories to play on Twitch every month.

Click the button to subscribe for free and discover the opportunities.
February's Edition
You can read our February edition here:
March's Edition
You can read the March edition here:
Emails Don't Work For You?
Does your email inbox have 3,427 unread emails in it? How else can we help you?